Partner hotel
DX KOREA Organizing Committee select the right place to view the exhibition at a special price considering the quality of service and connection with the exhibition hall for the convenience of visitors to the exhibition

Hotel reservations must be made directly through the hotel reservation form attached to each hotel page.

Please fill out the reservation application form and send it to the email address of the person in charge below.
Please make a confirmation call with the hotel after sending it to confirm your reservation.
5 STAR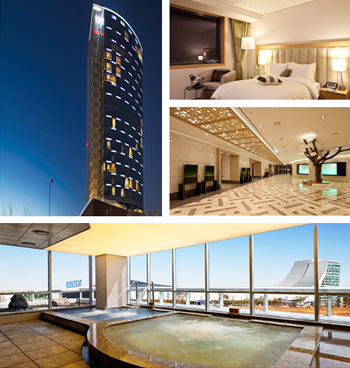 Classification
★ ★ ★ ★ ★
No. of Rooms
826 rooms
Tel
031-927-7700
Fax
031-927-7652
E-mail
Martin Yoo
martin.yoo@mvlhotel.com
Address
20, Taegeuk-ro, Ilsandong-gu, Goyang-si, 10394, Gyeonggi-do, Korea
Price


(tax and charge inclu)

Room

Superior Room : 170,000 ₩
Family Twin : 200,000 ₩
Deluxe Twin : 200,000 ₩
Family Suite : 300,000 ₩

Breakfast
26,000 ₩
Introduction

SONO CALM GOYANG provides optimal working environment and best service to business travelers for their successful achievements.We are also in pursuit of creating truly comfortable atmosphere for you to take breaks from the tension of everyday business.SONO CALM GOYANG is the only five-star hotel in northern region of Gyeonggi and sure to be the center of tourist activities around greater metropolitan area together with Hallyu World.We hope everyone visiting us, domestic or foreign, to be joyous and happy where the production and consumption of various cultural contents taking place and to have differentiated experience.
5 STAR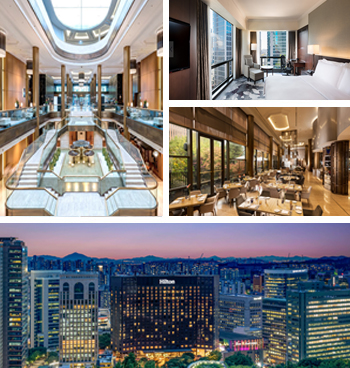 Classification
★ ★ ★ ★ ★
No. of Rooms
680 rooms
Tel
+82-2-317-3277
Fax
+82-2-752-7874
E-mail
Steve Uhm
steve.uhm@hilton.com
Address
50, Sowol-ro, Jung-gu. Seoul Korea 04637
Price


(tax and charge inclu)

Room

King/Twin Guest Room : 242,000 (Room Only)
King Guest Room : 266,200 (1 Breakfast)
King/Twin Guest Room : 302,500 (2 Breakfast)

Introduction

Millennium Hilton Seoul offers amazing views of the city, with the KTX train station, local subway station and bus stops nearby, the hotel is ideally situated to allow convenient access to the business districts, shopping hotspots and cultural and historic attractions.
5 STAR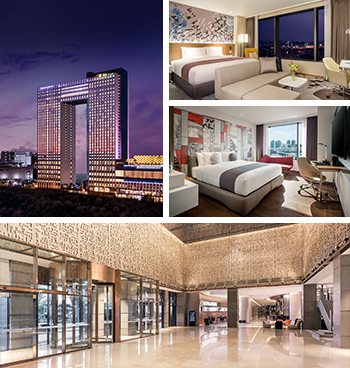 Classification
★ ★ ★ ★ ★
No. of Rooms
1,700 rooms
Tel
+82-2-2223-7000
Fax
+82-2-2223-7778
E-mail
Andrew Kang
andrew.kang@accor.com
Address
95 Cheongpa-ro 20-gil, Yongsan-gu, Seoul 04372
Price


(10% VAT excluded)

Room

Novotel Suites - Junior Suite : 180,000 / Breakfast : 28,000
Novotel - Superior : 140,000 / Breakfast : 28,000
Ibis Styles - Superior : 100,000 / Breakfast : 18,000

Introduction

Seoul Dragon City is Asia's first-ever lifestyle hotel-plex, where everything from luxury to economy can be enjoyed in one place. Three connected high-rise towers of Seoul Dragon City take on the appearance of a dragon, the symbol of prosperity and success. It consists of four hotel brands that belong to France's AccorHotels group, including Grand Mercure, Novotel Suites, Novotel and Ibis Styles. Seoul Dragon City is the foremost hotel complex with 1,700 guest rooms, a variety of restaurants and bars, state-of-the-art meeting and convention facilities, and Sky Kingdom, offering everything that the customers want, from leisure to business. The complex is located right next to Yongsan Station, a major transportation hub in Seoul where railway (ITX & KTX) and three subway lines (1, 4 & 6) run. Offering convenient access to central business and commercial districts including Yeouido, Itaewon, Myeongdong, Gangnam, and more, Seoul Dragon City ideally meets a variety of guest needs
5 STAR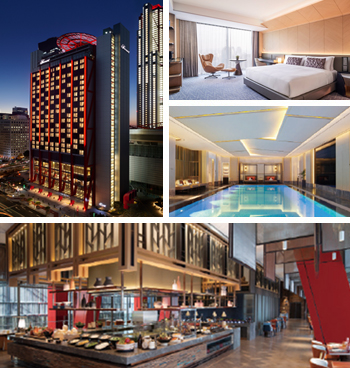 Classification
★ ★ ★ ★ ★
No. of Rooms
308 rooms
Tel
+82 2 3395 6000
E-mail
Nina Park
nina.park@fairmont.com
Address
108, Yeoui-daero, Yeongdeungpo-gu, Seoul, South Korea (07335)
Price


(10% VAT excluded)

Room

Fairmont Room (King / Twin): 297,000 (Room Only)
Fairmont Room (King / Twin): 338,800 (1 Breakfast)
Fairmont Room (King / Twin): 380,600 (2 Breakfast)

Introduction

The first fairmont property to open in Korea, Fairmont Ambassador Seoul in the Parc.1 complex, designed by world-renowned architect Sir Richard Rogers. 308 guestrooms reveal sophisticated interiors, inspired by elements such as the red columns that symbolize dignity and refinement in traditional Korean architecture, and complemented by panoramic views encompassing the Han River and Seoul's endlessly dynamic cityscape. A diverse portfolio of restaurants and bars includes an all-day dining restaurant, lobby lounge and 29th-floor rooftop bar, delivering epicurean culinary experiences. The hotel presents a variety of vibrant lifestyle services, from complimentary breakfast,evening cocktails and family celebrations at Gallery 7, and intuitive well-being at a sophisticated spa and fitness center. Experience unforgettable moments with Fairmont's uniquely engaging service, built on years of heritage and tradition.
4 STAR
Four Points by Sheraton Josun Seoul Station Reservation Sheet
Classification
★ ★ ★ ★
No. of Rooms
342 rooms
Tel
02-6070-7000
Fax
02-6070-7999
E-mail
jade.kim@fourpointsjosun.com
Address
37-85 Dongja-dong, Youngsan Gu, Seoul, 04323 Korea
Price


(tax and charge exclude)

Room

Superior Double & Twin Type : 100,000 ₩
Deluxe & Twin Type : 140,000 ₩

Breakfast
18,000 ₩
Introduction

Set in bustling Yongsan Gu, Four Points by Sheraton Seoul, Namsan welcomes business and leisure travelers alike. The modern hotel rises over a mixed-use building, giving guests easy access to the offices and shops below. Our city center property is walking distance to Seoul Station, including the KTX and airport trains and located minutes from Myeongdong, Yongsan army base, National Museum of Korea and Iteawon nightlife. Travelers recharge in spacious hotel rooms with Four Points signature beds, soaking tubs, mini-refrigerators, ample desks, free Wi-Fi and large windows that overlook Seoul from the upper floors. Work out in our 24-hour fitness center and sample the delicious buffet of South Korean and continental cuisine at The Eatery. Event planners can elevate their next business gathering by reserving one of our impressive event spaces. Every venue is expertly supported by catering, technology and dedicated planners. We look forward to welcoming you to Four Points by Sheraton Seoul, Namsan in Yongsan-gu